One of my goals for my blog is to share some of the great things I find around the digital scrapbook community that I think are great finds, news and all around cool. I really do love being a part of the communities, have made so many great friends and want to support some of these great people. I also want to help share and spread the knowledge about digital scrapbooking. Hopefully, some of you who visit my blog may find some of my posts useful and the thought of that makes me warm and fuzzy inside. ;)
So, here are some nifty things that I have spotted in some of the communities this week so far.....
Sweet Shoppe has a thread going about creating awesome titles. You can find the post
HERE
if you fancy reading through it. Or, here are the links I have grabbed from the thread that will help me when I am working on my next page to create that perfect title.
Peppermint Creative - Title and Phrase Guide
The Perfect Title
9 Surefire Ways To Create Dynamic Title Work
Thank you to Tracyfish, Kjersti and MommaTrish for these links!
I am admittedly a HUGE fan of
Zoe Pearn's
. Maybe even a bit stalkerish at times but not in a creepy way. ;) I absolutely love her style and have begged her a few times for a spot on her team even. No luck yet but, I still continue to keep the dream alive. Well, she just happens to be one of the sponsors this month at
The Daily Digi
(a big fan of this site - wealth of scrapbooking information!). You can check out her adorable kit and awesome interview
HERE
.
Her feature at
The Daily Digi
showcases a few of Steph's (owner of The Daily Digi) favorite products of Zoe's. So for fun, I thought I would share my favorite Zoe items.
Not to mention that my blog is one of her Blog In A Box products! You can find those
HERE
.
Do you know about Chelle's Creations? She is an amazing designer who I have known for years but, just in the last year or so she has really become one of my fave designers. I am a huge fan of the felt elements in her kits. Well, she just happens to be having a CT Call right now! Yep, that's right! Don't waste a minute, take a chance and get that application in today!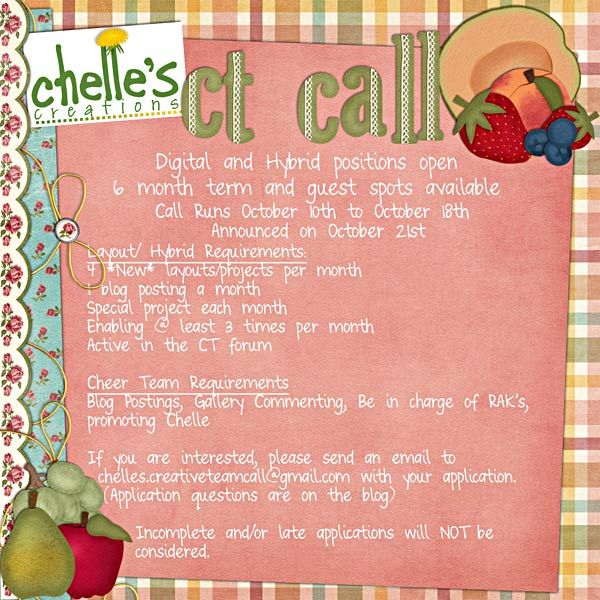 How about
The Lilypad
? Are you familiar with it? There are so many amazing designers there. Well, you can actually WIN a guest spot on their CT by participating in their challenges. They have this drawing every month! It is super hard to get a gig on their CT so this is an amazing chance to play with some of the best digital designers out there and a wonderful community. You also get an awesome 30% off coupon for completing all of their challenges. You can't go wrong! You can check out the details on the challenge
HERE
.
And last but not least,
Darcy Baldwin
announced a teaser of her upcoming So You Think You Can Font 3 contest!
She holds this contest each year. She allows you to submit a font or two and then she chooses several from all the entries that she will sell in her shop along with some other fun prizes. I haven't played along yet but, I think I will this year!
I know there is lots more fun going on out in the digi communities but, this is about all I can share with you today because after all, I need to pimp some of the amazing designers that are generous enough to let me play on their teams. So, onto my layouts (so far) for this week.
Chef
For the Log Your Memory Weekly Challenge #42 - In My Experience
Sunny Side Up by Nikki Beaudreau
iNSD Freebie by Busy Bee Designs
Pumpkin Patch
Pumpkin Spice by Kay Miller
Pieces of My Heart Templates 7 by Kay Miller
Halloween 2010
Jeepers Creepers by Kristin Aagard
Pierced
Hocus Pocus: The Bundle by Cluster Queen Creations and geniaBeana Scraps
Crazy Boy
You're A Hoot
You're A Hoot Boy Paper Pack Add On
So Sketchy: Scribbled Alphabet
all by Captivated Visions
Scrap Strip Temps by Scrapping With Liz
*all images are linked to my gallery so you can get hooked up with links to these products if you wanna!
I really intended to update my 30 Day Photo Challenge today and do some work on my digi supply organization project but I woke up with a migraine this morning and it has not let up all day. So, I will save those updates and work for tomorrow. I hope! Either way, I will at least be back on Saturday with a few more new layouts from my wonderful girls over at Sweet Shoppe Designs that I CT for.
Until then - have a great rest of the week. Hugs!