Our visit with Alyssa was wonderful! I have missed her so much and really I didn't realize just how much until she got here! All of her little antics and expressions, her laugh, her smell, everything about her beautiful little self. We did a whole lot of nothing, just hung out and watched movies. I cooked her lots of her fave meals and bought her fave snacks. It was just like old times. My birthday was in September and she brought me my gift. I started collecting Willow Tree figurines 10 years ago and I haven't had a new one given to me in about 5 years and she was thoughtful enough to get me one! She said it represents John Isaac! It made me cry! Here it is: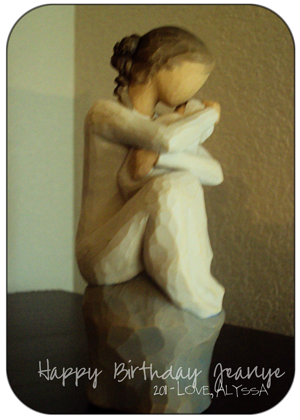 She is in the best shape of her life. She is so muscular it's crazy. I couldn't stop looking at her. She is back in her running shape and currently running a 7:30 mile! She comes in first place when they run at all her PT practices. She is also 2nd in her class at Tech School! I can't believe how well she is doing.

She got her 1st duty station orders too. She is going to Hickam Base in Hawaii. We were planning a vacation to The Bahamas in June as a family but now we are going to Hawaii instead. She finishes Tech School in February. She is soooo excited about her station. We are excited for her too. Jonathan grew up in Hawaii and still has sisters there also.

Of course I cried when she left. Saying goodbye is so hard to do.
I have still been keeping up with my 30 Day Challenge photos so let me bring that up to date for you.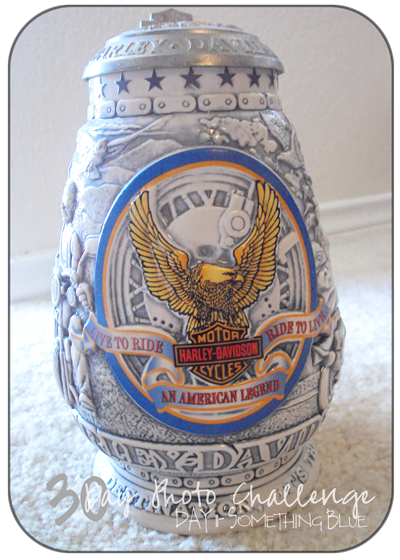 DAY 10 - CHILDHOOD MEMORY
DAY 9 - SOMEONE YOU LOVE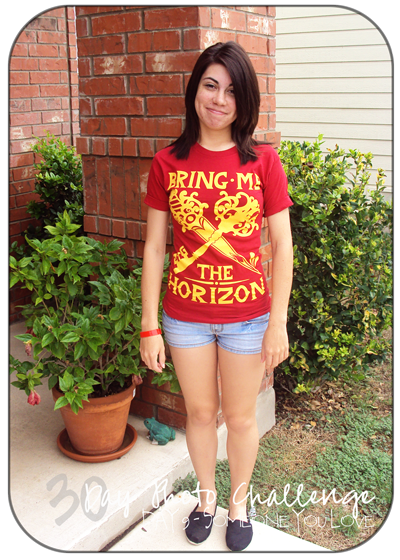 I got that Henry doll for my 4th birthday. ;) He was my best friend, there for me in the good times and the bad and I have kept him with me ever since. He now relaxes in my bedroom on an antique chair that belonged to my Grandmother alongside Jonathan's childhood stuffed animal, a Curious George that he rescued from a drainage ditch when he was just a little tot as well. Priceless memories.
I haven't had any time really to work on my digi organization since my last post. I did however spend Friday night organizing my photos. They are a total mess as well. I have now moved them over to Year folders. I just need to organize them within those folders into Months. A little at a time.....
I have completed 3 layouts so far this week and I will have those to show you on Thursday. So I will see you then! Until then, have a great week! Hugs!